The Realtors really, really, like me!
I was contacted a while back by someone working for the National Association of Realtors. Now you know whenever I see something like that I think its a cease and desist order....
But, they wanted to use a picture from my blog for an online article!
The article is not about my house reviews though...like you'd think!
The
article
is about safely lighting your house for Halloween.
Don't know how long they'll keep the link live but here's the screen shot.
Here's a cut/paste of the text.

Halloween Lighting Ideas
When you stroll through your neighborhood this Halloween season, get ready for some front-yard tricks and some awesome lighting treats. Halloween displays are more sophisticated — and fun — than ever, headlined by energy-saving CFL and LED extravaganzas, and powered by creative home owners who pull out all the stops when it comes to making spooky delights. Click through our slideshow and enjoy the magic!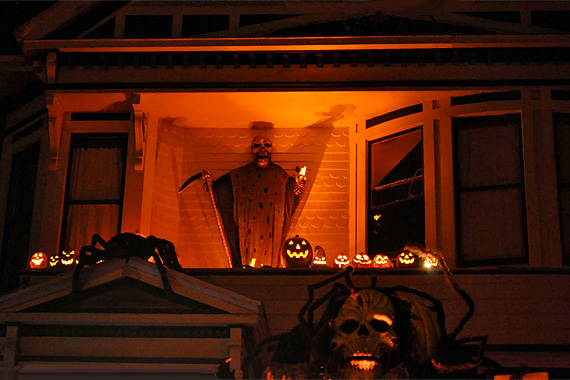 Stage Frightful
Looking for a place to stage your Halloween piece de resistance? Second-story displays give everybody the creeps — and that's a good thing. Stash a ghoul or two on an upper-level balcony or alcove, add some dramatic uplighting, and you'll create an awesome welcome for trick-or-treaters.
Keep lights safe
by making sure they're UL-rated for exterior use.
Not a bad shot of last years 2nd floor Halloween decorations they chose.
There is a photo credit that links back to the homepage of this blog.
Does anybody else think its super funny that the National Association of Realtors is linking back to probably one of the most anti-Realtor blog on the web?
Hurray For Sloppy Background Checking!!!